When you crave the most power, best performance and must-have fuel consistency, you need VP Racing Fuels.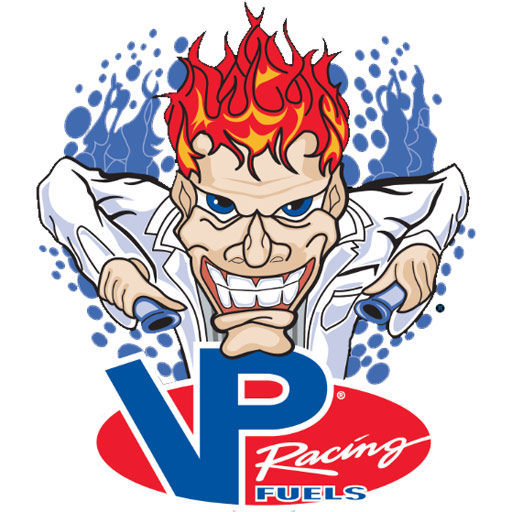 Race fuel is a performance part.
That's right—fuel is a performance part, as critical to your program as a camshaft or piston. A race vehicle is nothing more than a collection of parts. And to have a winning race vehicle, you need the best parts—and that includes racing fuel. Racing fuel that is specifically designed to optimize performance in your application, according to your requirements and your fuel rules.
For nearly 50 years, VP Racing Fuels has powered more race winners than any brand worldwide. VP's experts design more than 70 proprietary blends of leaded and unleaded race fuel for every application. VP also formulates custom blends. VP is the undisputed World Leader in Fuel Technology®. VP race fuels give you the consistent quality you can count on, race after race.
In every form of racing on earth, VP's racing fuel is Makin' Power® for winners.
If you need any more information on VP Race Fuels or to see what we have in-stock or what we can order-in please give us a call.
We stock the most popular VP Racing Fuels
We pump from drums to keep the cost as low as possible on all our main fuels. Some are available in 19-litre pales.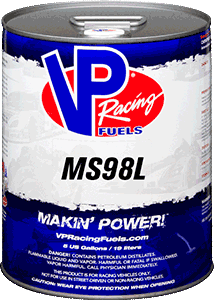 Designed for lower compression engines in racing series that require a consistent, cost-effective controlled fuel. Spec Fuel for Legends Nationals.
TYPICAL VALUES
Color: Light Blue
Motor Octane 96
Specific Gravity: .715 at 60° F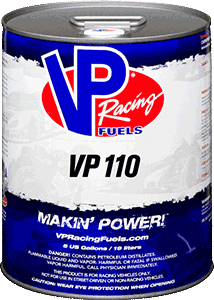 Not your "standard" 110! Highest rated MON of any 110 fuel on the market. Formulated for use in naturally aspirated engines with CRs up to approximately 12:1-13:1. Good lower cost alternative. Spec fuel for DIRTcar Northeast.
TYPICAL VALUES
Color: Purple
Motor Octane 107
Research Octane: 113
R+M/2: 110
Specific Gravity: .720-.735 at 60° F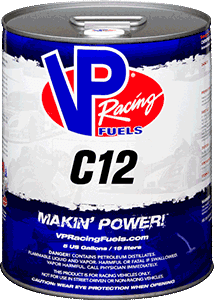 The best all around racing fuel made. Recommended for CRs below 15:1, satisfying the needs of 75% of today's race engines. One of the winningest fuels in racing history, including Modified Tour, Indy Lights, GNN, NHRA, AMA as well as other local and national championships across the U.S. and around the world. Spec fuel for DIRTcar Northeast.
TYPICAL VALUES
Color: Green
Motor Octane 108
Specific Gravity: .717 at 60° F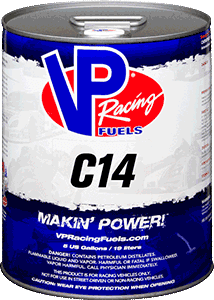 Recommended for naturally aspirated engines operating at over 8000 RPMs with CRs of 14:1 and higher. Spec fuel for NHRA Comp Eliminator, NMRA and NMCA.
TYPICAL VALUES
Color: Yellow
Motor Octane 114
Specific Gravity: .696 at 60° F
Used in turbocharged engines, blown engines and nitrous applications with CRs up to 17:1. Recommended by the top nitrous oxide companies. Spec Fuel for NHRA Comp Eliminator.
TYPICAL VALUES
Color: Blue
Motor Octane 117
Specific Gravity: .735 at 60° F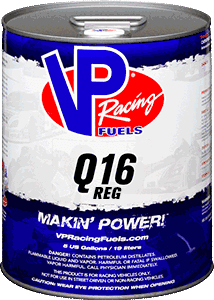 Q16 is highly oxygenated, requiring a 4-6% increase in fuel flow, which will make 3-5% more power than competitive 116 octane fuels. Excellent in higher compression Super Late Model or other applications up to 17:1. Q16's superior vaporization characteristics yield more efficient combustion and lower engine operating temperatures. The added fuel flow also effectively increases the octane of Q16 by 6-8 numbers above its standard ASTM octane rating, yielding greater detonation protection.
TYPICAL VALUES
Color: Yellow
Motor Octane 116
Research Octane: 120+
Specific Gravity: .716 at 60° F
We pump from drums to keep the cost as low as possible on all our main fuels. Some are available in 19-litre pales.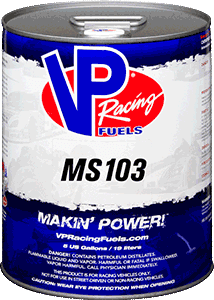 MS103 provides power and protection equal to some leaded racing fuels. Compared to Motorsport 101, it allows even more aggressive timing and higher compression-up to 14:1 in cast iron head engines and up to 15:1 with aluminum heads. Can allow doubling of stock boost – consult your engine builder. Also contains no metal compounds and won't harm catalytic converters or oxygen sensors
TYPICAL VALUES
Color: Red
Motor Octane 99
R+M/2: 103
Specific Gravity: .743 at 60° F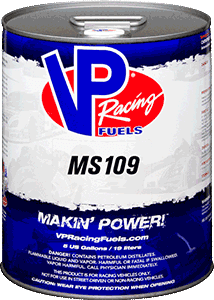 In engines that can run on pump gas, MS109 is a direct replacement that produces more power than any other unleaded fuel – up to 5% more than premium unleaded. Recommended for applications with up to 25 lbs of boost and naturally aspirated engines with CRs up to 15:1. Compared to other unleaded fuels, MS109 offers better detonation protection as well.
TYPICAL VALUES
Color: Clear
Motor Octane 101
Research Octane: 109
R+M/2: 105
Specific Gravity: .722 at 60° F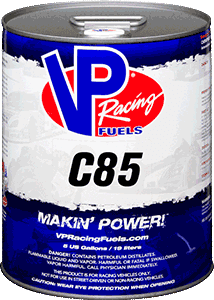 f you're committed to using E85 type fuels, VP C85 is by far your best choice. To begin with, we blend it with a consistent proportion of ethanol and every other component in every drum. Comparatively, VP C85 fuel makes up to 4% more power and torque than conventional E85. With higher quality pure components, our blend is superior to E85 products. C85 works well in drag racing, circle track, off road and virtually any other automotive application. Note: Do not use with fuel injectors that are not compatible with MTBE.
TYPICAL VALUES
Color: Yellow
Motor Octane: 86.5
Research Octane: 106
R+M/2: N/A
Specific Gravity: 0.7940
We pump from drums to keep the cost as low as possible on all our main fuels. Some are available in 19-litre pales.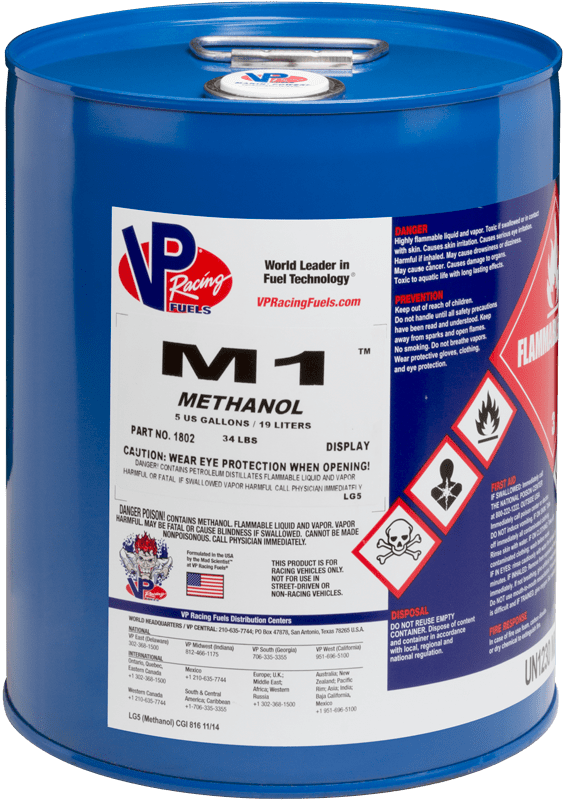 M1 Racing Methanol has a 99.95% minimum purity – the highest purity available in the U.S. With M1, engines run cooler and are less subject to corrosion. VP uses only lined drums which prohibit rust, corrosion and metal deposits that can contaminate fuel delivery systems. Recommended for all methanol-legal racing applications.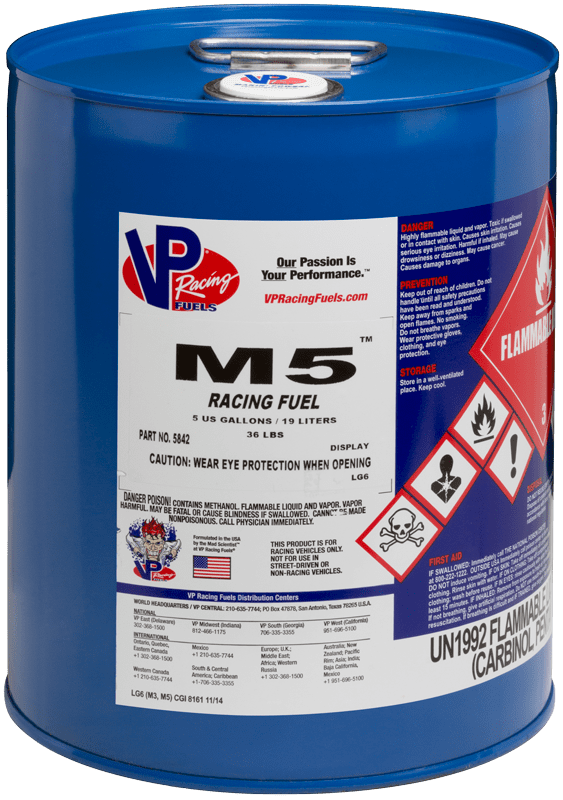 M5 makes more power than standard methanol because of its upgraded combustion additives. Furthermore, it offers the same or better protection against detonation. VP M5 has improved vaporization. As a result, it offers a wider acceptable range of air/fuel ratios and tuning, as well as faster combustion speeds. M5 fuel is designed for both drag racing and circle track racing. It is not pure methanol and won't pass a water test.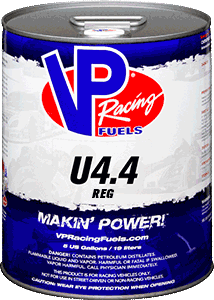 VP U4.4 reg as the best choice for virtually any powersports application if you're not bound by fuel rules. We design it to offer the biggest gain vs. cost of any performance part you can buy. VP U4.4 Reg makes more power than pump gas across a wider range of applications than its predecessors. We formulate it as a direct pour-in replacement for pump gas. However, it require modest jetting changes. For instance, +2 main jets or +2 pilot jets at most. Our fuel experts blend U4.4 Reg for stock and modified 2-stroke and 4-stroke applications due to its higher octane rating. Contains MTBE.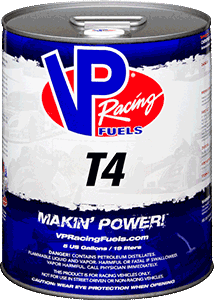 We design VP T4 fuel for stock or slightly modified 4-stroke engines. It's unleaded and ethanol-free. T4 is a direct pour-in replacement for premium pump gas, which has a short storage life. In addition, pump gas causes a heightened need for repairs in all engines after periods of non-use. Furthermore, when riders face extreme conditions, they are usually forced to add octane boosters or race fuel to increase the octane of pump gas.

However, T4's 97 octane rating (R+M/2) provides greater protection against detonation. VP T4 also offers 2-3% more power and better throttle response across the entire RPM range. This applies when compared with more expensive performance parts. Those typically increase power along only a small slice of the power curve.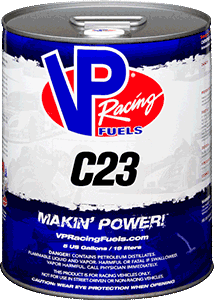 We formulate C23 fuel for drag racing applications. We recommend it for large cubic inch, carbureted-style nitrous engines. It offers excellent detonation protection.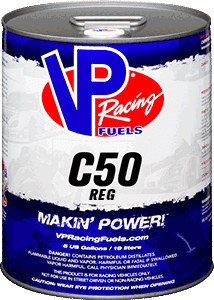 VP C50 2-stroke fuel is a truly revolutionary racing fuel.  We design it exclusively for 50cc 2-stroke motorcycles. It is the result of extensive testing with Cobra Moto, and it works well in all 50cc 2-stroke motorcycles. Even more, VP C50 2-stroke fuel shows measurable improvement across all performance parameters. This includes more horsepower, more torque, and better throttle response.

Another key point is that C50 is unleaded and pre-mixed with a top quality JASO FD-rated, certified premium oil at a 50:1 ratio. As a result, it requires no measuring or mixing. It's also ethanol-free, which prevents damage that occurs from ethanol-blended street gas. Pump gas with ethanol is known to foul carburetors, degrade rubber and plastic parts, and go bad after just a few weeks in storage. Contains MTBE.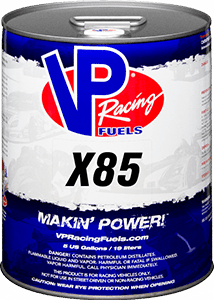 We blend VP X85 fuel with 85% ethanol and 15% top quality hydrocarbons. It's consistent every time, unlike pump E85, which is very inconsistent. X85 is for drag racing, circle track, road racing & rally, and off-road/rally applications.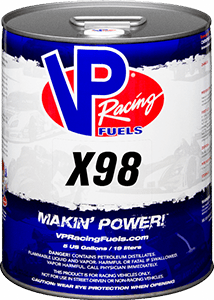 Top quality ethanol fuel produced with the consistency for which VP is famous.
FUEL JUGS
PUMPS
FILL TUBES
M-2
OCTANE BOOST
Empty fuel drums are available for $15.00 each
NEED MORE INFO ON VP RACE FUELS?